Split – John Sleepy Moran – 2022
$3,450 + shipping (Contact us for shipping outside of the USA. [email protected])
*If purchasing in MI or FL a 6% sales tax will be applied to your order.
Available
SPILT, 2022
Hot sculpted glass, enamels, gold leaf.
6 x 4 x 6 inches
Limited offering of 10 expandable to 20.
Each is uniquely made by the artist upon order.
Includes certificate of authenticity signed by the artist.
Order yours today!
We here at Habatat Detroit Fine Art hope you enjoyed seeing Moran on the most recent season (3) of Netflix's popular show Blown Away. John was successful in winning the competition and to celebrate he is releasing his first Habatat Limited titled SPLIT. Available exclusively through Habatat Detroit. Each work is sold on a first-come, first-served basis. Each work is made once payment has been received and will then ship directly to you once completed. Join in the celebration by ordering your John Moran SPILT sculpture today!
John Moran is a politically and socially engaged hot glass sculptor, mixed media artist, co-founder and operator at Gent Glas, and an all-around nice guy. He is an American currently living and working in Ghent, Belgium.
As a storyteller, my work is constructed from a series of anecdotes, references, and experiences. While I do draw ties to American pop culture, politics, and social issues, I do not do this arbitrarily. I attempt to illustrate how I see the barrage of consumerism, religion, and politics colliding with depictions of social injustice, secular beliefs, and popular culture. I myself am a product of all of these things; I am American and America was founded on dissent. To paraphrase Picasso: my work is a collection of lies, hopefully helping the viewer realize the truth[1]. Though for me the truth is not absolute, it is simply how I see the world. It is not necessarily an attempt at subversion, but more an attempt to reconcile, and in a way celebrate, the absurdity and hypocrisy of society.
I strive to achieve this through chronic appropriation, not of imagery in the same sense as Richard Prince or Andy Warhol, but of ideas. I am not as interested in using the depictions of the Pieta or the Presidents, it is their auras I want to use, all of the baggage surrounding them, every preconceived notion and stereotype that already exists, and then I want to smash them together with conflicting or separate notions and stereotypes where I see similar attributes.
It may not seem autobiographical, but my experiences and observations are the geneses of my ideas. Each piece is a reaction to a specific event but is not an illustration of it. I pull from everything around me. My own political and religious views, art, books, movies, family, and popular culture culminate into layers of seemingly random references, multiple components, and a visual overload that mimics our daily experience.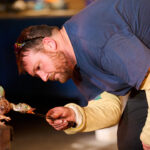 Artist: John Moran
'