CB w/ L T B P (Cheese Burger with Lettuce, Tomato, Bacon, Pickles)
$3,900 + shipping (Contact us for shipping outside of the USA. [email protected])
*If purchasing in MI or FL a 6% sales tax will be applied to your order.
Available
Dimensions: 6.5  x 10 x 10 inches
Hot sculpted glass
This limited edition glass cheeseburger is created using multiple glass working techniques. I apply a mix of American and Italian glass processes to make this possible. Each work is unique in its own way possessing gestural characteristics that cannot be achieved with other media. Inspired by the Pop Art era and the American Hot Rod, Diner culture, this edition functions as a small window back in time celebrating the nostalgia and cultural explosion of the 1950's. Stay tuned for future limited edition works in the coming years such as bags of fries and various drinks to compliment this small masterpiece. – John Miller
Each unique work is made upon order by artist John Miller. The edition is available now so order today! The artist plans to continue this body of work each year which will add to the presentation. Only available through Habatat Limited. The 2020 Limited Edition size: 20 unique plus artists proofs.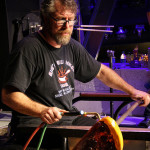 Artist: John Miller
'