Box • O • Fries – John Miller Fast Food Limited Series
$3,900 + shipping (Contact us for shipping outside of the USA. [email protected])
*If purchasing in MI or FL a 6% sales tax will be applied to your order.
Available
John Miller Box O Fries, 2020
11.5 x 9.5 x 4.5 inches (box size).
Hot sculpted glass, steel box
$3,900 plus shipping
Today is, December 16th, which is also known as National Chocolate Covered Anything Day, and Habatat will be celebrating by offering the newest Habatat Limited sculpture by artist John Miller's Fast Food series titled Box O Fries. This series has been very successful with many of the collectors eager to collect them all! John Miller has been in touch personally with all who purchased adding to both the process and the experience.
Adding to the celebration, the Muskegon Museum of Art has incorporated this Habatat Limited in their exhibition plans. The museum has acquired each of John Miller Habatat Limiteds and have incorporated them in their display. See the works live in the museum. John Miller has a few works available in his CB w/LTBP (burger) and Fountain (soda cup) Limited Series. Acquire the entire set before it is gone!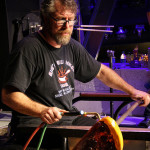 Artist: John Miller
'