Artist: Ivana Sramkova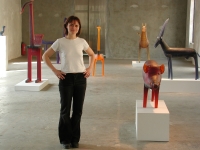 Want to know when this page
is updated?
The sculptures of Ivana Šrámková are three-dimensional distillations of basic figurative forms, both animal and human, with a healthy dose of character. Reduced to their essence each is described in a language of simple geometric symbols. What makes them extraordinary is Šrámková's ability to give them just enough of the archetypal to make them identifiable, just enough gesture to endow them with wit, and just enough reference to make them universal. As such they stand comfortably in the timeless continuum of art and artifact.