3 Glass Artists You Absolutely Need to Know About
September 30, 2015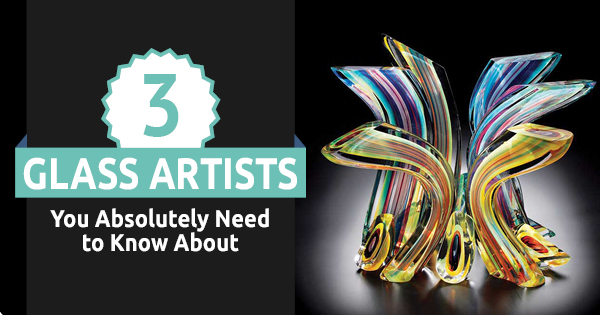 If you love glass artwork, then these are some of the contemporary glass artists you need to know about. Check them out.
Harvey Littleton
Harvey Littleton was an American glass artist and teacher from Corning, New York. There, he grew up in the shadow of Corning Glassworks, where his father headed Research and Development in the 1930s. In 1962, he began the "studio glass movement" along with Dominick Labino, a chemist and engineer. They held two workshops at the Toledo Museum of Art, where they started experimenting with melting glass in a small furnace, and creating blown glass art. In 1976, he retired from teaching to focus on his own art. He then began exploring the inherent qualities of glass, and worked in series with simpler forms to draw attention to the complex interplay of transparent glass with multiple overlays of thin color.
Karen LaMonte
Karen LaMonte is an American artist known for her life-size sculptures in ceramic, bronze, and cast glass, as well as her large scale monotype prints. After winning a Fulbright scholarship, she developed Vestige, a cast glass life-size sculpture of a dress. Her work largely deals with the central themes of beauty and loss. It explores the fragility of the human condition via a sartorial lens.
Albert Paley
Albert Paley was born in Philadelphia, Pennsylvania, and earned both his Bachelor of Fine Arts, and a Master of Fine Arts from Temple University's Tyler School of Art in Philly. In 1969, he moved to Rochester, New York to teach at the Rochester Institute of Technology, where he now holds an endowed chair. In 1998, he received the Artist of the Year Award of the Arts and Cultural Council for Great Rochester. What's more, the active artist with a career of more than 40 years is also the first metal sculptor to receive the coveted Institute Honors from the American Institute of Architects, the AIA's highest award given to a non-architect.
These are just a few of the most amazing glass artists out there, but they're not the only ones. If you know of any other amazing talents out there making glass sculptures, and paintings, feel free to share in the comments.