Box – O – Fries by artist John Miller
$3,900 + shipping (Contact us for shipping outside of the USA. [email protected])
*If purchasing in MI or FL a 6% sales tax will be applied to your order.
Available
John Miller
Box – O – Rings, 2022
11.5 x 10 x 4.5 inches
Blown, sandblasted, and coldworked glass, steel holder
Limited availability of 20.
$3,900 for the set of two bottles plus $90 shipping.
This is the 5th offering in the sculpture collection of artist John Miller's Fast Food Series titled Box-O-Rings. The entire series has been very successful with many of the collectors eager to collect them all! Miller has been in touch personally with all who have ordered these works in the past and he is looking forward to making this unique work for your collection.
Onion rings are the wedding rings of the diner movement. – John Miller
Each of these sculptures will be made to match the tone of the pervious series works. Expand on your collection or start yours with this fun and oversized Coney Island specialty. Each set includes uniquely made glass onion rings and a red and white steel display holder. This is exclusively available from Habatat Limited and made upon request. Only 20 available and will include a signed certificate along with the purchase. If you prefer to purchase over the phone feel free to contact the gallery anytime.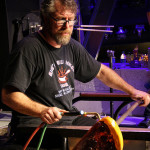 Artist: John Miller
'